As I mentioned earlier today, All-in-One (AIO) diapers have a number of benefits and over the past 6 months, we have used a variety of AIOs as part of our newborn stash and our current diaper stash. I have had the opportunity to try a number of different brands and I was excited when I met a wonderful diaper retailer who stocks a brand of diaper I had never tried before.
I recently met Amy of Beautiful Baby Gear while on the hunt for lesser known online diaper shops. I will admit to having my favorite shops, but I also enjoy researching shops I haven't used before and checking out what they stock as the products being offered vary from store to store.  I will admit that I first fell in love with the design of her website. I guess that's just proof that the design of your website is important! I was even more pleased to meet Amy, the owner of Beautiful Baby Gear, because she is one of the good ones. She is wonderful to communicate with and as you know, I value excellent customer service!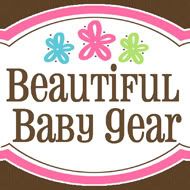 Amy started Beautiful Baby Gear as a way to share her love of cloth diapering and other baby things with more people! She discovered Anne Marie Padorie (AMP) cloth diapers by accident, while looking for the perfect all-in-one diaper for her daughter. Beautiful Baby Gear only sells AMP diapers. That is how strongly Amy believes in the diaper line. She offers both the AMP All-in-One and the AMP Duo Pocket as well as cloth diapering accessories.
I have breaking news for you! Amy has decided to focus solely on cloth diapers as she moves forward, so Beautiful Baby Gear will soon be Abigail's Diapers! While Beautiful Baby Gear undergoes the name change and re-branding, Amy is still offering great diapers and amazing customer service! She will be expanding her inventory to include other diaper brands in the future too.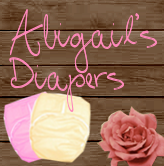 Let me begin by saying that if you're looking for quick shipping, Abigail's Diapers is a winner! The AMP AIO Amy sent me to try with W arrived two short days after she shipped it. That is worthy of my Amazon Prime 2 day shipping that I adore and take advantage of as often as possible! I just love quick shipping, so I was even more excited to try the diaper when it made it to my mailbox quickly! Fluffy mail brings a smile to my face!
I received an AMP All-in-One size medium in the Butternut color. It is very similar in color to the Bum Genius Butternut color. When I opened the diaper, the first thing I noticed was that the inner felt extremely soft to me. The inner is made of super soft fleece that is designed to wick away moisture from the baby's skin. I was just extremely surprised by how much softer it felt to me than many of our other diapers. Even after it has been worn and washed a few times, it is still extremely soft. I like knowing that such great softness is touching W's skin!
Based on the AMP sizing, I selected a medium which is designed to fit from 12 – 22 pounds. I guess I should mention that I weighed W on the home scale with me last week and he was about 23 pounds. Our medium AMP AIO is fitting him just fine and he still has some room to grow a bit. I think he may be slimming down a bit and I will be interested to see how long he is at his next pediatrician appointment in about 2 and 1/2 weeks. Still, by weight the medium should be getting on the small end and it is definitely fitting very well! With my big guy, I can definitely appreciate diapers with larger cuts. Of course, figuring out what size diaper you need is always the challenge! I always go up a size to be safe if W is on the border. I didn't realize how close to the border he was when Amy wanted to know what size we needed!
The AMP AIOs feature an aplix closure and go on just like a disposable would so they are perfect for those who might be hesitant about using cloth diapers. I'm a huge fan of the aplix closure on this diaper. I really like diaper tabs that are constructed with the aplix sewn on a fabric tab which is what the AMP AIO features. They are my favorite type of aplix tabs as they tend to curl up less which means they are a bit more difficult for baby fingers to get a good grip on.
Because it is an AIO (All-in-One) there is nothing to stuff in this diaper. You just put it on and go! The soaker area is extremely thick feeling to me. The core is made of 4 layers of microfiber for a soft squishy feel. I definitely like the feel of it and it has about the same drying time as my other AIO diapers so the 4 layers of microfiber do not make the drying time significantly longer.
I was able to get a very nice fit on W and his still (slightly) chubby belly and his thighs. The rise on the AMP AIO size medium is wonderful right now and it is the reason I know the diaper will work for us for a bit longer despite the weight guidelines.
The AMP diaper did not leave any marks on his skin and that is one thing I always check on my new diapers. The fit of the AMP AIO isn't the most trim fitting of our diapers, but it isn't super bulky either. I would say that it leans towards the more trim side of fit in comparison to all of the other diapers in my stash. It fits well under most of W's clothes too so this is definitely a diaper I pull out fairly often now. It's a good addition to our stash and is a good one to throw in the diaper bag (unless I'm trying to save space in the diaper bag) because it's easy on and off!
For more information about Beautiful Baby Gear/Abigail's Diapers, check out the following links:
Buy It!
If you don't want to wait for the end of the giveaway, you can buy your own AMP diapers as well as cloth diapering accessories at Beautiful Baby Gear! The AMP AIOs retail for $20, the Duo Pocket without inserts is $18, and the Duo Pocket set with inserts is available for $24. Additional inserts can be purchased as well. Bamboo inserts are $8 and hemp inserts are $5.50. Wet bags and diaper pail liners are also available for $14 and $18, respectively!
Disclosure: I was sent an AMP AIO cloth diaper  for review and Beautiful Baby Gear/Abigail's Diapers is responsible for the giveaway prize. I was not compensated in any other way for this review and all opinions are my own. FormulaMom's full disclosure can be found here. Facebook is not associated with this giveaway in any way.